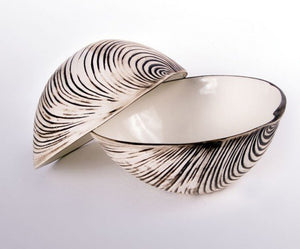 Royce McGlashen Pottery
Cockle Bowl
Regular price
$55.00
$0.00
Unit price
per
Tax included.
Shipping
calculated at checkout.
Ceramic bowl by Royce McGlashen Pottery

Cockle Shell Bowl
18 x 7.5cm
Born in Richmond, Royce completed a 5 year Master Potter apprenticeship in 1971. After travelling overseas he returned and established his studio in Nelson. Royce has received an MBE for his services to pottery in New Zealand and is a member of the International Academy of Ceramics (Geneva) He has received awards in NZ and overseas and his work is in public collections in many countries. Royce was the designer for Temuka pottery for several years, and has taught throughout New Zealand and Australia, plus holding residential pottery workshops at his studio in Brightwater. Many young people have trained in Royce's workshop and have gone on to become potters in their own right.

During Royce's 47 years working with clay he has explored many forms, surface decorations and textures using a wide variety of techniques to achieve his desired outcomes. Decoration has always played a major part in his work, often reflecting his New Zealand environment either consciously or unconsciously. He sometimes includes a narrative of his life experiences, telling his own story on the surface of the work. Functional tableware has been a cornerstone of Royce's production – there has been an ever evolving range of contemporary tableware designed to match current life and food styles.
The most recent tableware uses textured surfaces and shapes that relate strongly to us as New Zealanders. All of Royce's work is designed and manufactured at his studio in Brightwater. He has production assistants who are involved in the production processes. Many methods of construction are used including ram-pressing, slip casting, hand building and throwing. Producing his own clays on site, he uses primarily white stoneware and paper clay. In the gallery at Brightwater you can see a full range of Royce's works including functional tableware, and textural functional works that are evocative of New Zealand. A wide variety of Royce's ceramic art pieces are on display including sculptural teapots, which have been a lifetime interest of his. It is amazing to see the wide variety of themes that Royce explores both in clay and in works on paper and canvas. When Royce first began painting he worked with pen and ink wash, and later moved to gouache often painting floral subjects in a loose and free style. More recently Royce has been working with acrylic on both paper and canvas employing a more abstract theme.
---